Hello and welcome to my "profile" page! I'm Karen. I now live in Kuala Lumpur, Malaysia together with my beautiful family. Recently graduated from high school. I love animals and music a lot!!! (u can view my other interests below) I like to read about the person behind the website when I'm out visiting, so I thought I'd make one for me too so you can get to know me a little better! I am really not much into talking about myself, I'd rather talk about my dog all day *g*. So don't expect to see too much here! I'll try though....

My Profile

NAME (english): Karen
NAME (chinese): §õ³·¤å
NICK: Kay (pronounced as the letter 'K') & Karyn (pronounced as Ka Rin)
SEX: Female
AGE: 17 at the moment
D.O.B : 09|02|1985
P.O.B: Kuala Lumpur
ASTROLOGICAL SIGN: Aquarius
HEIGHT: 5'2" (sometimes 5'4"...with my shoes...my shortcut to being taller. Lol!)
NATIONALITY: Malaysian
RELIGION: Free Thinker
ETHNICITY: Chinese
LANGUAGE: Cantonese, English, Japanese, Malay, Mandarin & currently learning Spanish
LOCATION: Kuala Lumpur, Malaysia
EDUCATION: High school (Form 5)
FAMILY: Mum

Dad

2# (annoying) Sisters
PETS: Cat (Meow), Dog (Jasper), Guinea Pig (Baby), Hamster (Pearl & Bonny), Japanese Koi Fish & Gold Fish
HOBBIES: Bowling, Collecting Stamps, Dancing, Playing Guitar, Playing Piano, Singing, Shopping, Web Designing
IDOL: MYSELF!!! (Whois better than anyone else if u dun admire urself???)
CONTACTS: Karenative@yahoo.co.uk
WEBSITE: www.karenative.dot.nu (you're already in it!)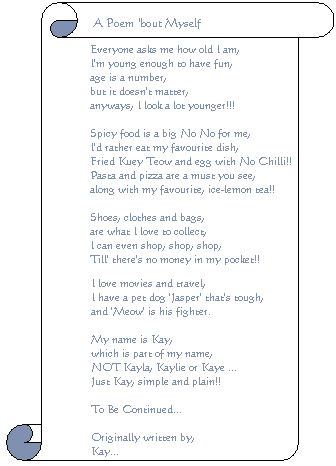 *More stuff about me?
click here